Soundtek – the San Jose Recording Studios
Soundtek Studios is the Bay Area Recording Studio owned and operated by Robert Berry, Grammy nominated and international renowned songwriter and performer. We have specialized in recording, music production, editing, and Voice Over in the heart of Silicon Valley for over 35 years. We offer a friendly and highly experienced music production staff in a Pro Tools environment enhanced with the best vintage equipment, capable of accommodating most any instrumental and music production requirement in a comfortable and professional environment.
Our San Jose Recording Studios are located just minutes away from Mineta San Jose International Airport and adjacent to a friendly and vibrant downtown area with retailers, bars and restaurants, shopping, lodging and more. Contact us today – soundtekstudios@gmail.com or 408-370-3313
.
Over the years, our staff has enjoyed the distinct privilege of working with a variety of renowned brands and media agency representatives from various industries. Some of our clients that have experienced the Soundtek difference include:

More Recording Studio Services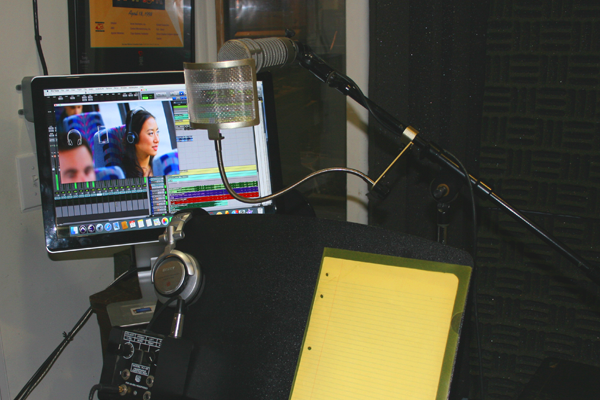 Professional recording studios for TV, film and animation-San Jose
Whether your needs are for radio, film, television production, theater, or business presentations; from straight forward voice over to a complete soundtrack, Soundtek offers, in our San Jose recording studio, complete Voice Over Studio services.
We offer a comfortable, dedicated studio environment tailored to achieve the highest quality VO audio results, with producers and engineers that have the experience, skills, and tools to produce world-class voice over recordings.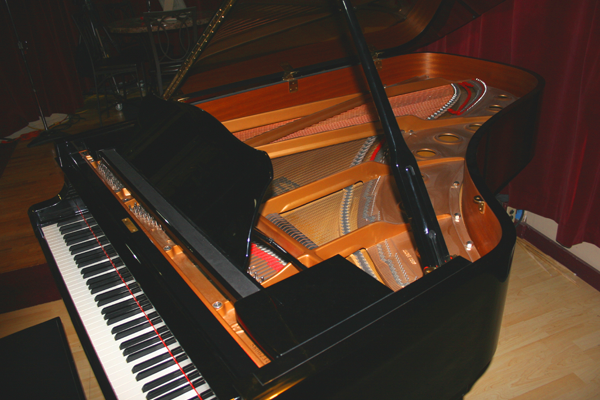 Yamaha C7
Grand Piano-San Jose
Many honor band and incoming university students planning to major in music must complete an entrance audition recording to showcase musical and technical abilities. Our extraordinary Yamaha C7 Grand Piano and our studio have become very popular for audition recordings. Students and music educators know the Yamaha Grand's reputation for quality, eloquent expressive range, and reliable performance as a solo instrument or accompaniment. We, at Soundtek are experienced and adept at adhering to the academic audition guidelines.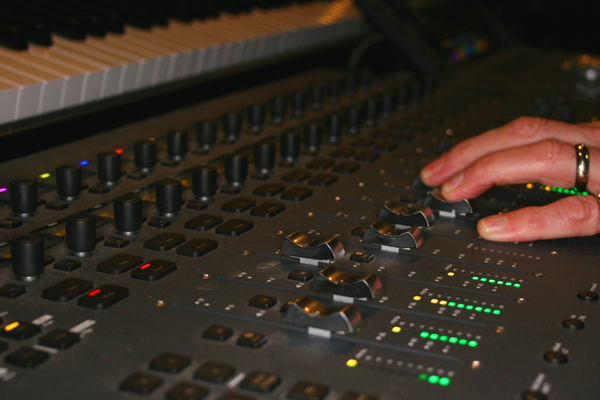 Songwriter's Specials
Our passion is assisting songwriters. Soundtek Studios owner Robert Berry, via his popular Song Writer Package program, specializes in assisting with writing, arranging, instrumentation and producing music. If you have an idea, sketch or demo you can go home with your song fully produced and 'radio ready'. We can help you bring your ideas to fruition. If you are considering recording a song, an entire album, or a handful of professional demos, Soundtek can help you with the entire process, from writing refinement, recording, musicians, to disk pressing. Contact us today – soundtekstudios@gmail.com
or  408-370-3313
About Robert Berry
Grammy Nominated songwriter, producer, internationally known performing artist and owner-operator of Soundtek for over 35 five years. Perhaps best known for his role in the ELP spinoff, 3, with pals Emerson and Palmer. A strong vocalist, guitarist, and bassist, he later replaced David Pack for a stint fronting Ambrosia and is a core member of the Greg Kihn Band and the rising All 41 project. Berry has numerous solo discs and has contributed to a number of high-profile albums.
I want to help you succeed.
When you come to Soundtek you get the best of your ideas realized, recorded, produced, and mixed to the highest industry standards. We have a friendly staff of professionals with years of experience committed to putting your needs first. I personally have recorded all over the world and have had some experiences where what the engineer wanted was put above my artistic visions. Not so at Soundtek's Bay Area Recording Studios in San Jose. We are here to achieve your goals and to provide you the recording experience of a lifetime. We have outfitted the studio with the latest ProTools, great microphones, the best grand piano, Hammond B3, DW drums, a selection of fine guitar and bass amps.
We have been privileged to host and work with a great many celebrated artists, such as Keith Emerson, Carl Palmer, Lyle Workman, Gary Pihl, Greg Rolli, Jerry Miller, Joan Baez, Greg Kihn, as well as a litany of deserving and talented writers and musicians for whom notoriety may yet come. When you walk through the door, I believe you too will feel the inspiration and benefit from the creative vibe that permeates our walls. We hope you will come to Soundtek, where each client gets treated to the Soundtek experience and gets exactly what they wanted and needed.
soundtekstudios@gmail.com
408-370-3313

Bridging home studio recordings with Soundtek professional studio refinements
Whatever you need to complete your home and project studio recordings, we can help. So many times you finish your home recordings and know in your heart and in your ears that you are close to getting what you want but something is missing. Here at Soundtek Recording Studio in San Jose we use the awesome Avid ProTools system and our outstanding Neotek mixing console with the great McDsp plugins and bringing your home recordings to life. The difference a great EQ or Reverb can make to your overall mix will amaze you. Additionally, our state-of-the-art mastering plugins can bring life back to dull or narrow sounding recordings. You can tweak the settings yourself or have our expert engineers assist you in getting exactly what you are looking for in your sound. We have a vast collection of instrument samples and studio drums, keyboards, and guitar amps that may come in handy when looking for that "perfect" sound. How about a real full-size Yamaha C7 acoustic grand piano or a vintage Hammond B3, or maybe a classic Marshall or Fender amp!? When was the last time you played and experienced an actual MOOG Memory Moog synth!? Remember that great synth bass and fat pads. You won't know what you are missing until you hear what is possible.
Here's why you'll love Soundtek Studios
Friendly & Creative Environment
Whether it's your first time in a professional recording studio or you're an experienced pro, our goal is always to make your recording studio time as enjoyable, comfortable and productive as possible. We are here to help, encourage and guide you through the recording process.
35+ Years of Experience
We have over 35+ years experience in recording, editing, mixing and songwriting in a wide variety of musical styles. Our talented music producers and sound engineers, skilled with the tools of their trade and blessed with that special musical mojo that enables us to achieve results quicker and more efficiently, saving you time and resources.
Pro Tools and  Vintage Equipment
Soundtek is a fully equipped San Jose music recording & voice over studio offering an ideal, acoustically tuned recording environment. We offer a highly flexible setting, able to meet to the most demanding recording, mixing, engineering and mastering requirements.
Bay Area Recording Studio has 100% Commitment to Client Success
We believe our years of experience as a premier Bay Area Recording Studio and our strong drive to exceed expectations allow us to provide our clients with a higher level of service which helps artists capture the moment and achieve their creative goals. Contact us to learn how we can assist you –   soundtekstudios@gmail.com
408-370-3313.
Relax, you're in good company
We've recorded some wonderful artists over the years.
You could be next...
Greg Kihn
Jerry Rice - NFL
Joan Baez
Lyle Workman
Tempest
Smashmouth

Keith Emerson
Carl Palmer - ELP
Ronnie Montrose
Chris Caswell
James LaBrie - Dream Theater
Tyran Porter - Doobie Bros.

Gary Pihl - Boston
Jerry Miller - Moby Grape
Rodger Steen - The Tubes
Andy Latimer - Camel
Dwight Clark - NFL
Monty Byrom - Big House

Jack Palance - Academy Award Winner
Handsome David Lauser - Los Waboritos
Sal Valentino - Beau Brummels
Laurie Roberts - Radio Hall of Fame
Greg Rollie - Journey, Santana
Alan Fitzgerald - Night Ranger
Find Soundtek Studios
85 S. 2nd Street
Campbell, CA 95008
408-370-3313
soundtekstudios@gmail.com
Directions from San Jose Intl Airport
Mineta San José International Airport
1701 Airport Blvd, San Jose, CA 95110
Get on I-880 S from Airport Blvd
Follow I-880 S and CA-17 S to E Hamilton Ave in Campbell.
Take the Hamilton Ave exit from CA-17 S
Continue on E Hamilton Ave. Take N 3rd Street to
Soundtek Studios 2nd Street
What our clients have to say
"After recording 10 albums together at Soundtek, I can't wait to get going on the next one!
When we enter Robert's studio we're not only getting the most talented producer and engineer –
we also gain an artful and intuitive band member… Soundtek is just the best!"
Lief Sorbye / Tempest

"Soundtek is the perfect studio environment for a songwriter like me. With access to an impressive array of instruments all set up and ready to go, I can sit down and work out the best approach for my song with Robert. From there everything flows quickly. Very creative and casual with professional results, I find my time well spent at Soundtek."
Roger Steen/The Tubes

"I have worked with Robert Berry as an artist and producer on several releases. Robert is truly an awesome musician and excellent partner. His studios are top notch and the tone quality and creativity going on at Soundtek studios is second to none."
Serafino Perugino
President & C.E.O. / A & R Director
Frontiers Records

"Robert Berry is more than just a studio engineer. He is an expert in all aspects of music production. Not only is his creative input invaluable, but he makes the entire recording process seem completely effortless… (and a lot of fun too) !"
Aprylle Gilbert/recording artist

"Your talent, vision, perfect intuition, musical prowess, impeccable taste, mastery of multiple instruments, engineering abilities, expediency, understanding what comes next in a recording session are outstanding. Thanks my friend,"
J.D.